10% OFF buying 1 or more!
You will be able to use this promotion on any product of the shop
In up to
6
installments of
$3.96 USD
without interest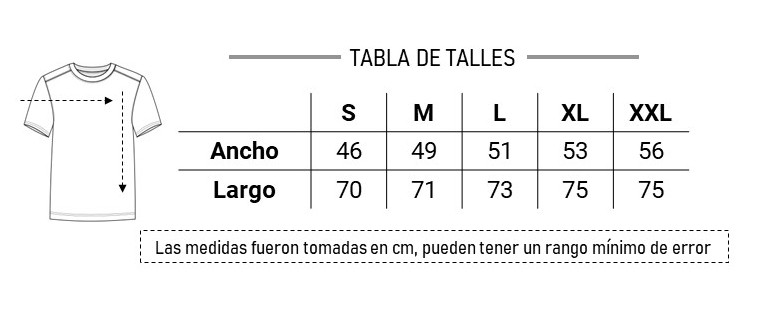 Esta prenda fue creada para los que buscan REVANCHA siempre, dentro y fuera de la cancha. Para los que nunca abandonan. El fútbol – y la vida – da REVANCHA. Los que estuvimos en un vestuario lo sabemos. De villano a héroe, de burro a crack. Todo pasa, lo bueno y lo malo… y todo se olvida, menos la certeza de que, cuando el partido no sale como uno lo planeó, habrá REVANCHA pronto…

Información adicional:
La remera se realiza con algodón peinado, este consta de un proceso para fortalecer la tela, lo cual genera más durabilidad, aumenta la calidad de la prenda y favorece al teñido de la tela, lo que significa que el color permanecerá durante mas tiempo ya que resiste una gran cantidad de lavado.
El estampado de la remera fue realizado con la técnica conocida como serigrafía, el cual transfiere imágenes de una plantilla por encima de una malla con tinta a una superficie deseada, en este caso a la Remera Revancha.
Free shipping buying more than
Shipping Methods
Free

Kiricocho

Av. Triunvirato 4135, Villa Urquiza, Buenos Aires - Atención de Lun. a Sáb. de 10 a 20 hs.